78th Grand Prix de Monaco F1
20 - 23 May 2021
Access conditions to the 78th F1 Grand Prix de Monaco
Published on 05 May 2021
In accordance with the directives of the Monegasque authorities concerning the organization of the 78th edition of the Formula 1 Grand Prix de Monaco which will take place from Thursday 20th to Sunday 23rd of May, the Automobile Club de Monaco shall organize the event under the following conditions:
Days of Thursday 20th, Saturday 22nd and Sunday 23rd of May:
A total grandstand capacity of 7'500 people per day will be allowed with seating positions (approximately 40% of the capacity),
Regulations detailed below
Day of Friday 21st of May:
A grandstand capacity of 3'000 people will be allowed with seating positions,
Only grandstands K & T will be operational,
Free tickets,
Regulations detailed below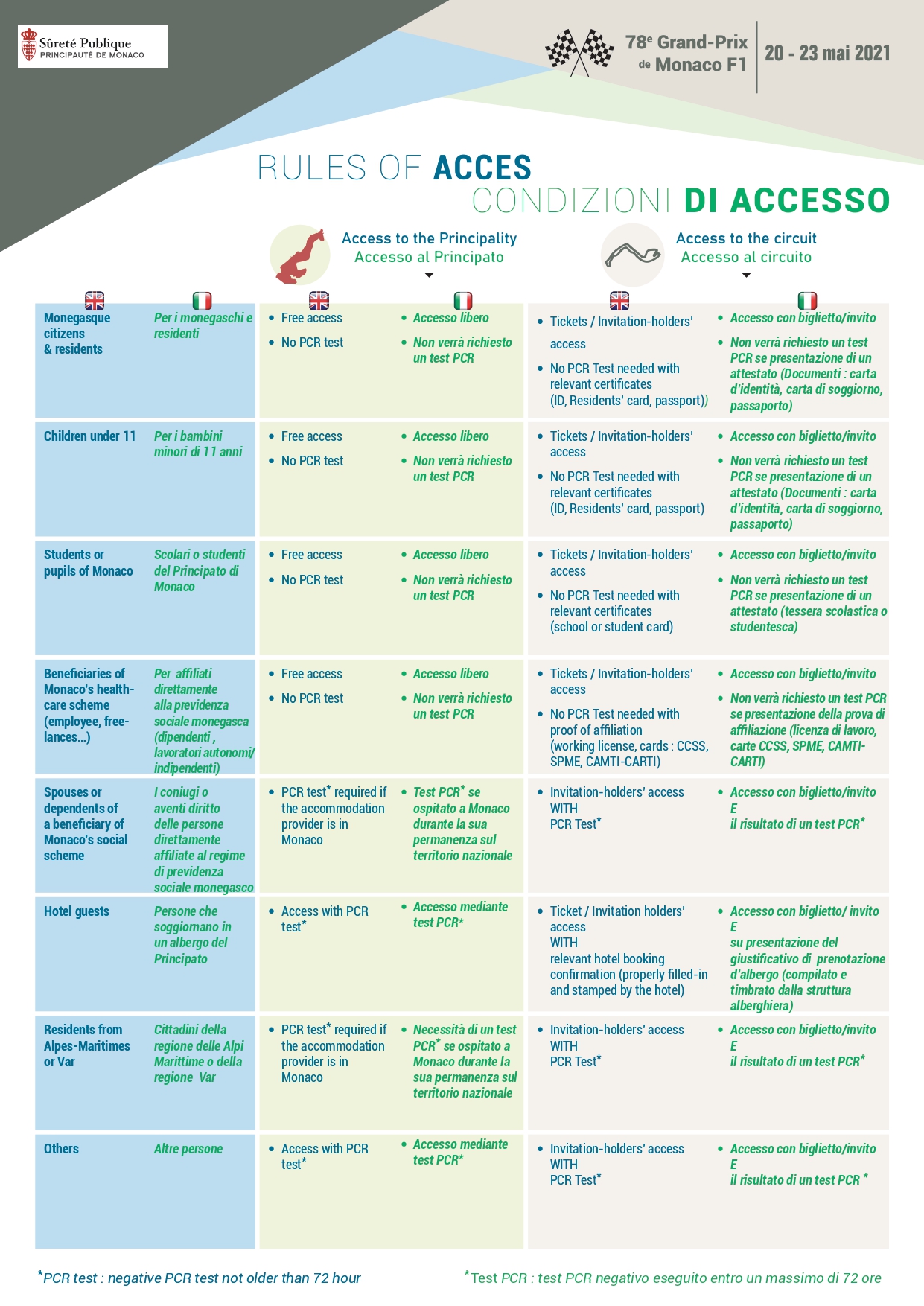 Ticketing prices of each grandstand are available online on www.formula1monaco.com, on the Official Ticketing Office (44, rue Grimaldi – Monaco) as well as on the several ticket offices located in the Principality: Promenade Honoré II & Direction du Tourisme de Monaco – Boulevard des Moulins. Our staff remains at your disposal by phone (00 377 93 15 26 24) and by mail ([email protected]).
The Automobile Club de Monaco, the FIA and Formula One are applying and taking all precautionary measures (mandatory physical distancing, wearing of face masks and hand hygiene) to ensure the optimum hygiene protocol for the attendees of the Event.
All the hygiene protocol disciplines for the Principality are available on: www.covid19.mc