Array
(
    [sort_order] => asc
    [sort_column] => menu_order
    [hierarchical] => 0
    [child_of] => 2355
    [parent] => 2355
    [post_type] => page
    [post_status] => publish
)

Array
(
    [sort_order] => asc
    [sort_column] => menu_order
    [hierarchical] => 0
    [child_of] => 8863831
    [parent] => 8863831
    [post_type] => edition
    [post_status] => publish
)

Array
(
    [sort_order] => asc
    [sort_column] => menu_order
    [hierarchical] => 0
    [child_of] => 8868121
    [parent] => 8868121
    [post_type] => edition
    [post_status] => publish
)

Array
(
    [sort_order] => asc
    [sort_column] => menu_order
    [hierarchical] => 0
    [child_of] => 9100521
    [parent] => 9100521
    [post_type] => edition
    [post_status] => publish
)

Array
(
    [sort_order] => asc
    [sort_column] => menu_order
    [hierarchical] => 0
    [child_of] => 8729531
    [parent] => 8729531
    [post_type] => edition
    [post_status] => publish
)

Array
(
    [sort_order] => asc
    [sort_column] => menu_order
    [hierarchical] => 0
    [child_of] => 8999943
    [parent] => 8999943
    [post_type] => edition
    [post_status] => publish
)

Array
(
    [sort_order] => asc
    [sort_column] => menu_order
    [hierarchical] => 0
    [child_of] => 9000023
    [parent] => 9000023
    [post_type] => edition
    [post_status] => publish
)

Array
(
    [sort_order] => asc
    [sort_column] => menu_order
    [hierarchical] => 0
    [child_of] => 9000103
    [parent] => 9000103
    [post_type] => edition
    [post_status] => publish
)

Array
(
    [sort_order] => asc
    [sort_column] => menu_order
    [hierarchical] => 0
    [child_of] => 1973755
    [parent] => 1973755
    [post_type] => edition
    [post_status] => publish
)

Array
(
    [sort_order] => asc
    [sort_column] => menu_order
    [hierarchical] => 0
    [child_of] => 5134
    [parent] => 5134
    [post_type] => page
    [post_status] => publish
)


12th Grand Prix de Monaco Historique
23 - 25 April 2021
Man of the Day: Jean Alesi
Man of the Day: Jean Alesi
Published on 25 April 2021
He deserved to drink a cup of Champagne on the podium, he lost it all at the end of a superb race but it was not his fault. He was disappointed but he will be back next year : Jean Alesi was cheered and applauded by drivers in the pits, fans in the grandstands, when he made his way back to the paddock. He had led three quarters of the race in amazing manner, he had resisted all the assaults of a very excited Marco Werner survolté (too optimistic at the end?), and the black Lotus ended up pushing his Ferrari 312 B3 in the wall. A few minutes later, Jean discussed the incident with Toni Seiler, who had just finished the same Race F, and recalled the Monaco GP in 1992, when Ayrton Senna won for the 5th time in the streets of the Principality after resisting until the finish line, and closing all the doors to Nigel Mansell, who could never pass him. Because as Jean Alesi summarizes perfectly, « when there is no space, you cannot pass ! ». Jean will be back for the 13th edition of Grand Prix de Monaco Historique, he promised !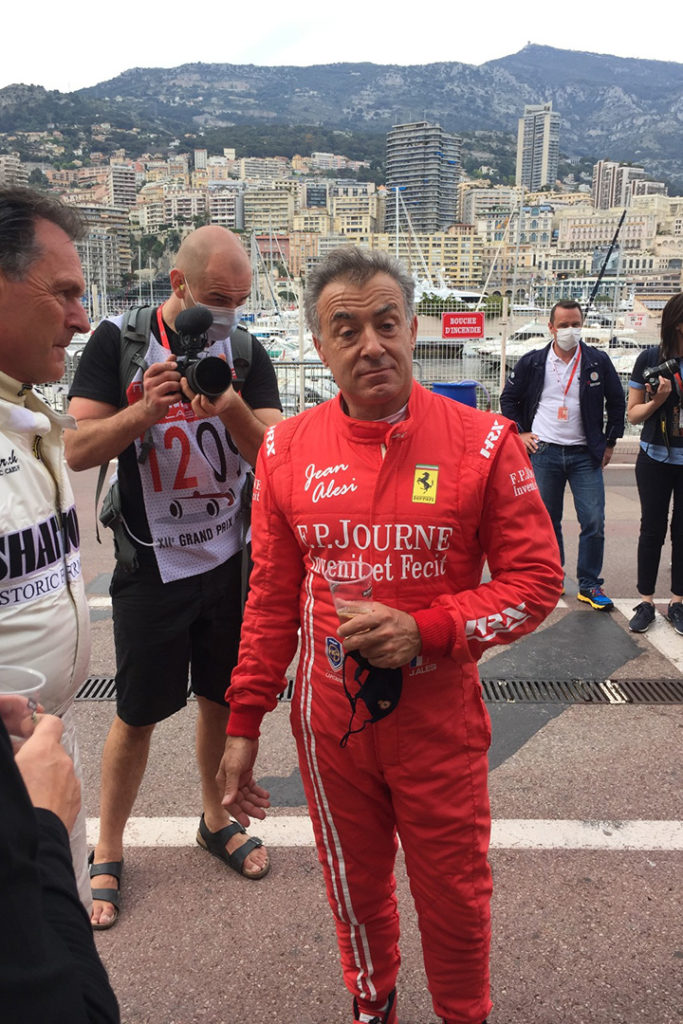 Inscription aux actualités de l'ACM
Socials Widget
📣 OFFICIEL
Louis Vuitton devient le créateur officiel de la Malle Trophée du Formula 1 Grand Prix de Monaco™.
Le partenariat marque la toute première rencontre entre la Maison emblématique française et l' Automobile Club de Monaco tous deux réunis autour des valeurs de tradition, de transmission et d'excellence qui leur sont chères et qui ont accompagné leur histoire.
Fabriquée dans les ateliers historiques de Louis Vuitton à Asnières, la malle illustre le savoir-faire traditionnel de Louis Vuitton tout en s'inspirant des codes du Formula 1 Grand Prix de Monaco™ qui célèbre cette année sa 78e édition. Cet écrin sur-mesure, aux couleurs de la Principauté, accueillera le trophée - dessiné avec les 19 virages des 3,337 km du circuit - remis au vainqueur du prestigieux Formula 1 Grand Prix de Monaco™, le 23 mai prochain.
Plus d'informations:
➡ bit.ly/2R7qRyO
___________
📣 OFFICIAL
Louis Vuitton becomes the official Trophy Travel Case provider for the Formula 1 Grand Prix de Monaco™.
This partnership marks the very first encounter between the iconic French House and the Automobile Club de Monaco, united by the values of tradition, transmission, and excellence, which have always been cherished by both.
Hand-crafted in the House's historic Asnières workshop on the outskirts of Paris, the trunk showcases Louis Vuitton's traditional know-how while drawing inspiration from the heritage of the Formula 1 Grand Prix de Monaco™ , celebrating its 78th edition this year. This tailor-made trunk, in the colours of the Principality, will hold the trophy depicting the 19 turns of the 3.337-km track. The trophy will be awarded to the winner of the prestigious Formula 1 Grand Prix de Monaco™ on 23 May 2021.
More information:
➡ bit.ly/2RGfHRs
#MonacoGP #F1 #LouisVuitton
...