12th Grand Prix de Monaco Historique
23 - 25 April 2021
Welcoming conditions for public
Published on 15 April 2021
As part of the application of the health measures announced by the Monegasque Government on April 15, 2021, the 12th edition of the Monaco Grand Prix Historic will take place under the following conditions:
Friday 23 (free practice session) will not welcome public,
A grandstand capacity up to one third ( 6,500 people) on Saturday 24 (qualifying sessions) & Sunday 25 April (races),
Only residents, workers and customers of Monegasque hotels will be allowed to get tickets for the event,·        Preferential rates for the tickets will be implemented due to the exceptional situation,
Restaurants will be open to residents and hotel customers in the evening only until 9:30 p.m. A traffic exemption for customers is foreseen until 10 p.m. maximum.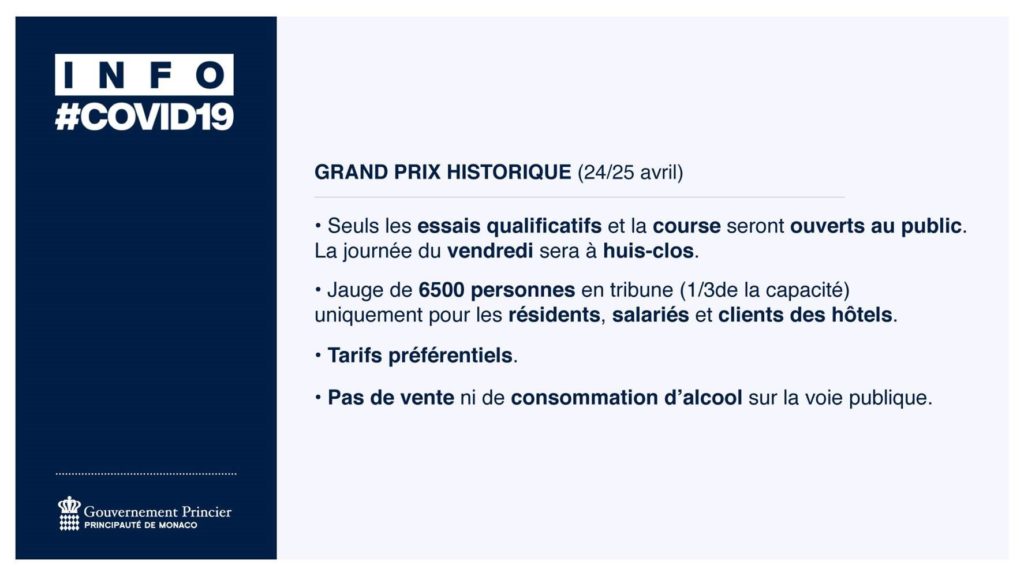 The Automobile Club de Monaco is applying and taking all precautionary measures (mandatory physical distancing, PCR pre-testing, wearing of face masks and hand hygiene) to ensure a better safety for the attendees on the event.
All the Monaco Grand Prix Historic news will be available in live on the ACM website and social media.
All the health measures in the Principality are available in the following link: https://covid19.mc/
Contact Automobile Club de Monaco: 00 377 39 15 26 00
Contact Ticketing:
www.formula1monaco.com
[email protected]
T. : 00 377 93 15 26 24