Array
(
    [sort_order] => asc
    [sort_column] => menu_order
    [hierarchical] => 0
    [child_of] => 2355
    [parent] => 2355
    [post_type] => page
    [post_status] => publish
)

Array
(
    [sort_order] => asc
    [sort_column] => menu_order
    [hierarchical] => 0
    [child_of] => 9993791
    [parent] => 9993791
    [post_type] => edition
    [post_status] => publish
)

Array
(
    [sort_order] => asc
    [sort_column] => menu_order
    [hierarchical] => 0
    [child_of] => 8868121
    [parent] => 8868121
    [post_type] => edition
    [post_status] => publish
)

Array
(
    [sort_order] => asc
    [sort_column] => menu_order
    [hierarchical] => 0
    [child_of] => 9100521
    [parent] => 9100521
    [post_type] => edition
    [post_status] => publish
)

Array
(
    [sort_order] => asc
    [sort_column] => menu_order
    [hierarchical] => 0
    [child_of] => 9894697
    [parent] => 9894697
    [post_type] => edition
    [post_status] => publish
)

Array
(
    [sort_order] => asc
    [sort_column] => menu_order
    [hierarchical] => 0
    [child_of] => 8999943
    [parent] => 8999943
    [post_type] => edition
    [post_status] => publish
)

Array
(
    [sort_order] => asc
    [sort_column] => menu_order
    [hierarchical] => 0
    [child_of] => 10022418
    [parent] => 10022418
    [post_type] => edition
    [post_status] => publish
)

Array
(
    [sort_order] => asc
    [sort_column] => menu_order
    [hierarchical] => 0
    [child_of] => 9000103
    [parent] => 9000103
    [post_type] => edition
    [post_status] => publish
)

Array
(
    [sort_order] => asc
    [sort_column] => menu_order
    [hierarchical] => 0
    [child_of] => 1973755
    [parent] => 1973755
    [post_type] => edition
    [post_status] => publish
)

Array
(
    [sort_order] => asc
    [sort_column] => menu_order
    [hierarchical] => 0
    [child_of] => 5134
    [parent] => 5134
    [post_type] => page
    [post_status] => publish
)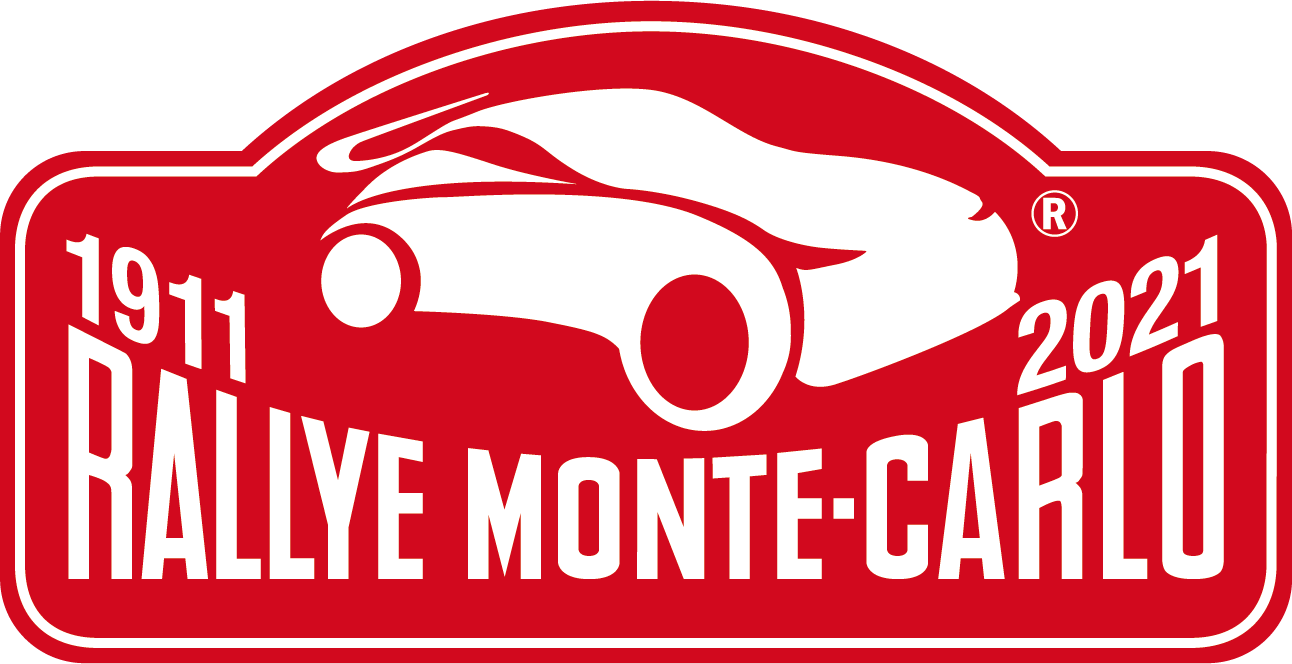 89th Rallye Monte-Carlo
18 - 24 January 2021
Monte-Carlo Rally 2021: TV Program

Monte-Carlo Rally 2021: TV Program
Published on 21 January 2021
A dedicated program will be set-up for watching safely from home the the 89th edition of the Monte-Carlo Rally.
On the French television, Canal+ channels will diffuse 5 special stages in live throughout the weekend, including 2 stages unencrypted (Saturday 23 at 12:00 & Sunday 24 at 12:00).
For following the rally in streaming, the Automobile Club de Monaco will broadcast online and on-live the Start of the Rallye from Gap (Thursday 21 at 13:00), "Meet the Crew" session (Thursday 21 at 16:30) and the Prize Giving Ceremony in Monaco (Sunday 24 at 16:00). All of them will be available on the ACM Facebook and Youtube Pages.
It will be also possible to follow the Prize-Giving Ceremony on Monaco.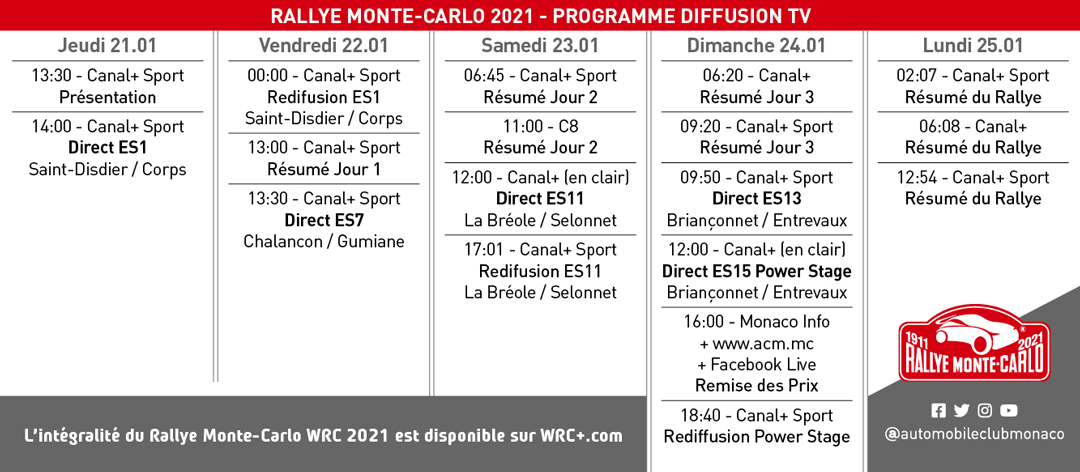 All the rally will be coverage on WRC+.
For watching the rally from your country: https://www.wrc.com/en/more/tv-guide/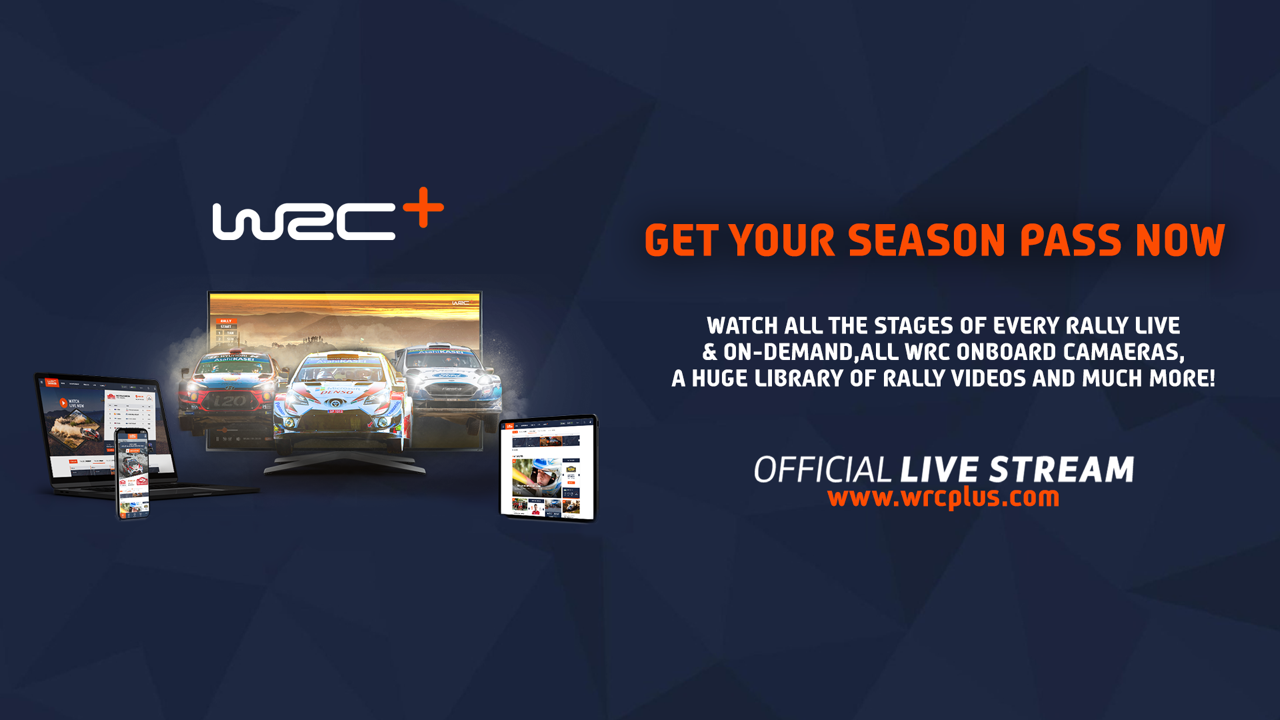 Inscription aux actualités de l'ACM
Socials Widget