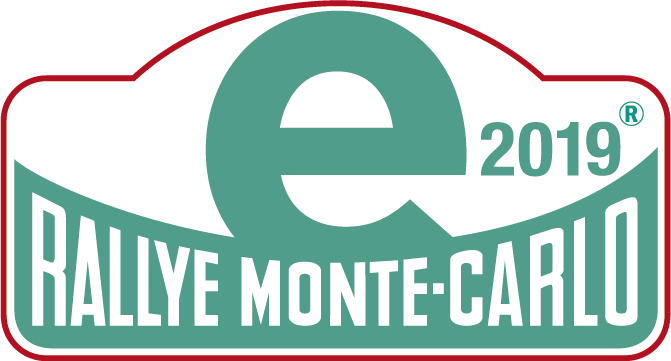 4th E-Rally Monte-Carlo
23 - 27 October 2019

4th E-Rally Monte-Carlo (October 23-27, 2019)
Even more intense!
In order to make the 4th edition of E-Rally Monte-Carlo another memorable event, the Organizing Committee at Automobile Club de Monaco (ACM) decided to continue promoting diversity of terrain: the route will be highlighted by 12 regularity stages, some of them brand new, some others mythical where whole pages of the legend of Rally Monte-Carlo were written, either in the modern WRC event or in the famous Historic version of the most glamorous rally in the world.
For the first time since its creation in 1995, the electric version of Monte-Carlo Rally heads for a host-city which is familiar with Monaco and its organizers, Valence. The start is set on the Champ de Mars of the Drôme capital city for Wednesday October 23, from 7:30 am to 12:30 for technical scrutineering and administrative checking, before the big start scheduled for 2:00 pm. Competitors will head for the Isère valley and the Vercors mountains for the 1st Leg, with an appetizer called « Saint-Pierre-de-Chérennes – Choranche / RZ1 / 13 km / 3:30 pm » but no specific difficulties. Then, on the way back through the Drôme department, the serious part will begin with « Léoncel – Barbières / RZ2 / 14 km / 4 pm » and the passing of Col de Tourniol (1145m), followed by famous hairpins on the way down, an authentic test of strength at the end of this 1st leg, with the arrival in Valence scheduled for 6:30 pm.
Ardèche will be on the menu of the 2nd Leg, on Thursday October 24, after a start from Valence at 7:30 am. The first playground of the day will be « Gilhoc-sur-Ormèze – Saint-Barthélémy-Grozon / RZ3 / 13 km / 8:30 am », a stage which should not be taken lightly because it can reveal decisive, on very narrow roads. Difficulty will then move one step up, with competitors having to confront a mythical stage of the World Rally Championship (WRC), « Saint-Martial – Burzet / RZ4 / 30 km / 10 am », including the whole way down from Ray Pic. As a conclusion of that second day, « Antraigues-sur-Volane – Vals-les-Bains / RZ5 / 21 km / 11:30 am » will also be a serious test before heading back to Valence around 16:30.
On Friday October 25, departure from Valence is scheduled for 6:00 am. The 3rd Leg will start with a long drive from Drôme to Hautes-Alpes in order to reach « Oze – Lardier-et-Valença / RZ6 / 32 km / 9:30 am » and to go through the passes of Bachassette (940m), Verniers (1042m) and Espréaux (1160m). No respite whatsoever, since the Alpes-de-Haute-Provence will follow suit in the form of a very demanding stage: « Digne-les-Bains – Chaudon-Norante / RZ7 / 16 km / 11:30 am », made famous by its Corobin pass (1211m). Next on the menu will be the Var department, with an ancient stage of previous editions, «Castellane – Chateauvieux / RZ8 / 16 km / 1:30 pm » and one last drive to the Principality of Monaco, where the first competitors will be expected at parc fermé any time after 8 pm.
The next day, Saturday October 26, the 4th Leg will start in Monaco at 8 am, heading for Alpes-Maritimes. With two beautiful playgrounds in a superb setting: « Toudon – La Penne / RZ9 / 20 km / 10 am » followed by « Conségudes – Bouyon / RZ10 / 13 km / 11:15 am ». Then back to Monaco in order to recharge the batteries in the parc fermé, from 2 pm onwards.
The start of the Final Leg, scheduled during the night of Saturday 26 to Sunday October 27 will take place in Monaco at 9 pm. The menu of this last night includes traditional stages such as « Sospel – La-Bollène-Vésubie / RZ11 / 31 km / 10 pm » and « Lantosque – Lucéram / RZ12 / 16 km / 11 pm ». The finish line will be reached in Monaco around 1:30 am.
About E-Rally Monte-Carlo
E-Rally Monte-Carlo is an authentic regularity road race reserved to 100% Electric Vehicles (excluding any use of range extenders) and 100% Hydrogen-powered cars. It is now very appreciated by car manufacturers and race teams who are eager to show, in a real and tough environment, the technological and innovative potential of their vehicles. Its new name comes back to 2016, following previous editions called "Rally Monte-Carlo for Electric Vehicles" (1995 to 1999), then "Rally Monte-Carlo Fuel Cell & Hybrids" (2005, 2006), Rally Monte-Carlo for Alternative Energy Vehicles (2007 to 2011) and Rally Monte-Carlo for New Energies / Rally Monte-Carlo ZENN (2012 to 2015). This 4th edition of E-Rally Monte-Carlo will be the 12th and penultimate race of the 2019 FIA E-Rally Regularity Cup.
By definition, E-Rallys are promoting new automobile technologies designed to limit all sorts of pollution (fine particles, CO2, etc.) They also encourage drivers to adopt an eco-responsible driving style, the priority being the protection of environment and the transition in the transportation sector, thanks to using electricity as an energy source for propelling vehicles. This is exactly what Automobile Club de Monaco has been trying to demonstrate over the past twenty years, pursuing with conviction its visionary role. Automobile Club de Monaco remains a proposing force in that domain: E-Rally Monte-Carlo, dedicated to new generation vehicles, has always moved forward, year after year, to stay in phase with modernity.
Already alongside the Automobile Club at the previous edition, the public network of charging stations "eborn" with 1000 terminals on the counter today in 11 departments of the South-East, goes back into the adventure by making available its terminals located along the roads of the E-Rallye.
Charging stations for electric vehicles will also be provided in the parks by EVBox, a historic partner of the E-Rally Monte-Carlo. With a base of more than 75,000 charging points installed throughout the world, EVBox is the motor of electric mobility and offers charging solutions to individuals, businesses and public authorities, from 3.7 kW to 350 kW.
The cars entered in the event are new generation vehicles, representing over ten car manufacturers, all of them leaders on the market, be it with electric cars or fuel cell vehicles using hydrogen…
Monaco, July 17, 2019