2nd Rallye Monte-Carlo Classique
31 January - 03 February 2018
News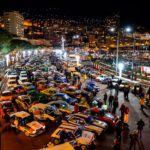 Published on 07 February 2018
Tuesday night, as usual, The 2 last ZR of Rallye Monte-Carlo Historique shaked up the rankings. In Sospel-Lantosque, as in [...]
To celebrate the 21st edition of the Rallye Monte-Carlo Historique, this years starting cities will
have the pleasure of welcoming for a second time, the "Rallye Monte-Carlo Classique".
For every starting city, a maximum of ten cars will be accepted to undertake the concentration leg
to Bourgoin-Jailleu, in Isère, without time restrictions and without a check-point.
For these cars, FIA or FIVA identification documents will not be required.
Only exceptional cars, specifically models that competed in the Rallye Monte-Carlo between 1911 and 1969 will be participating!
2018 sees the return of Monte-Carlo, after a two year absence, joining Lisbonne, Barcelona, Bad
Homburg, Valence, Glasgow, Reims and Oslo as a starting city.