A few weeks before Monaco Grand Prix, the Monaco-born Scuderia Ferrari driver talked to the Monégasque media about his home race. He is more confident than ever about this 78th edition because he knows the track by heart and because his Ferrari, this year, is much better than the one he drove last year. So who knows what can happen this weekend in the streets of the Principality ?
You have never completed a Monaco Grand Prix since the start of your single-seater career. Do you feel like you are cursed here?
No, I don't believe in curses (he laughs). These are things that happen, it's bad luck and unfortunately it happened to me the last few times. However, before single-seaters, I won here in go-karts (he smiles). I will do everything to get the best possible result this year.
What is your favourite turn on the track?
The S at the swimming-pool because we go through that portion at incredible speeds being very close to the barriers; we have no room for mistakes. That's what I like the most. I also have fond memories at the pool with friends when we were younger.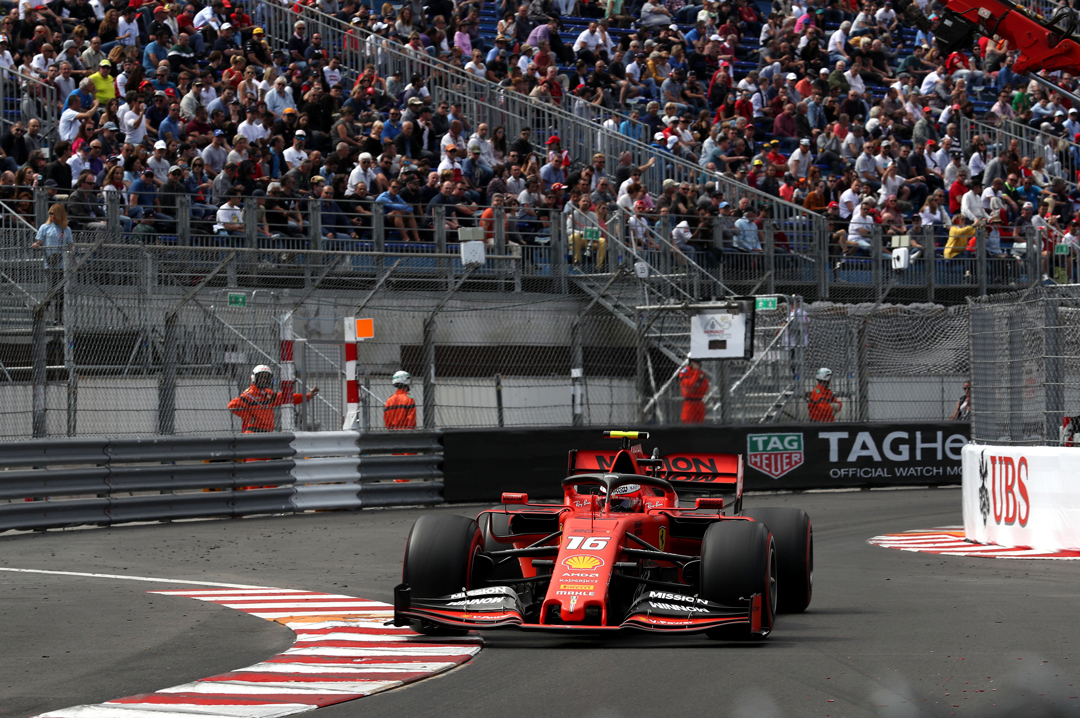 What is the main improvement of the SF21 compared to the SF1000?
It's hard to say, it's a new car so there are lots of differences… The car's balance has been improved, so it is easier to drive. There was no revolution on the car between 2020 and 2021, it is more of an evolution. 2020 has been a really tough year, although I've learned a lot, especially from my mistakes.
Carlos Sainz Jr. replaced Sebastian Vettel as your teammate. How would you describe your relationship with him?
Everything is going well between us. I have never spent as much time with a teammate as I have with Carlos before. We get along well because we are almost the same age, we are at the same point in our career and we also have a lot of common interests such as padel tennis, golf or chess…
And at work?
We work well together and expect the same from the car, which is very important. We have the same desire to bring Ferrari back to winning ways. There is a lot of motivation and I'm sure we will push each other on the track for better results.
Do you feel like you've changed status within the team?
Not really. Even though I've turned from being the least experienced driver in the team to the one who knows the Scuderia best, Carlos has been in F1 for more years than me. My goal remains the same: to give my maximum every time I am in the car.
F1 is back in Monaco after two years of absence…
I'm so happy to be able to race at home again, I can't wait. The Monaco Grand Prix is necessarily very special to me, it was always a dream to take part in this race. The cancellation was hard to accept last year, but fortunately the ACM was able to find solutions for this year.
As a Monegasque, you are in great demand here. Is it a more tiring weekend than the others?
Yes, in Monaco and Italy, it's always very demanding and it's not easy to manage. But I'm not complaining, it's better that way than the other. It's always very special to be in Monaco and I feel it every time.
What's your opinion on Monaco marshals ?
They do an exceptional job and without them the Grand Prix could not take place. Coming to F1, I found out about them and realised how well prepared they are here. Even if throughout the season marshals on other circuits are well-trained, Monaco marshals are still a step above. They are really impressive and they play a major role for us and our safety.