It hasn't gone unnoticed! Esteban Ocon finished 3rd on Sunday at the 80th Formula 1 Grand Prix de Monaco: a historic podium in the tradition of the key stories in French motorsport in the Principality.
The French tradition is honoured! Since it was first held in 1929, the Monegasque circuit has regularly been the scene of outstanding performances by French drivers and teams. 7 French drivers have won here (René Dreyfus, Guy Moll, Maurice Trintignant, Jean-Pierre Beltoise, Patrick Depailler, Alain Prost and of course Olivier Panis). Although Esteban Ocon has yet to add his name to the legendary list of winners at this event, his performance on Sunday is certainly worthy of note.
Ocon took over from Olivier Panis, surprise winner in 1996 in a Ligier.
As when Olivier won in 1996, Ocon achieved this feat at the wheel of a French car. Especially as the Panis Ligier was powered by a Japanese Mugen-Honda engine. As for the three podium finishes achieved by Renault F1 in Monaco since 1996, it was always with a foreign driver at the wheel: Jarno Trulli (victory in 2004), Fernando Alonso (victory in 2006) and Robert Kubica (3rd in 2010).
"It's been a long time. I'm speechless. On Thursday, I would have been happy to get into the Top 10, but here we are on the podium. With Alpine, we never stop believing and this weekend I felt strong in the car, confident, I could really get close to the limit, more than ever before in Monaco," said Esteban in the press conference. He was on cloud nine, he could hardly believe it, and this was only normal.
"My qualifying lap was 90% of the job"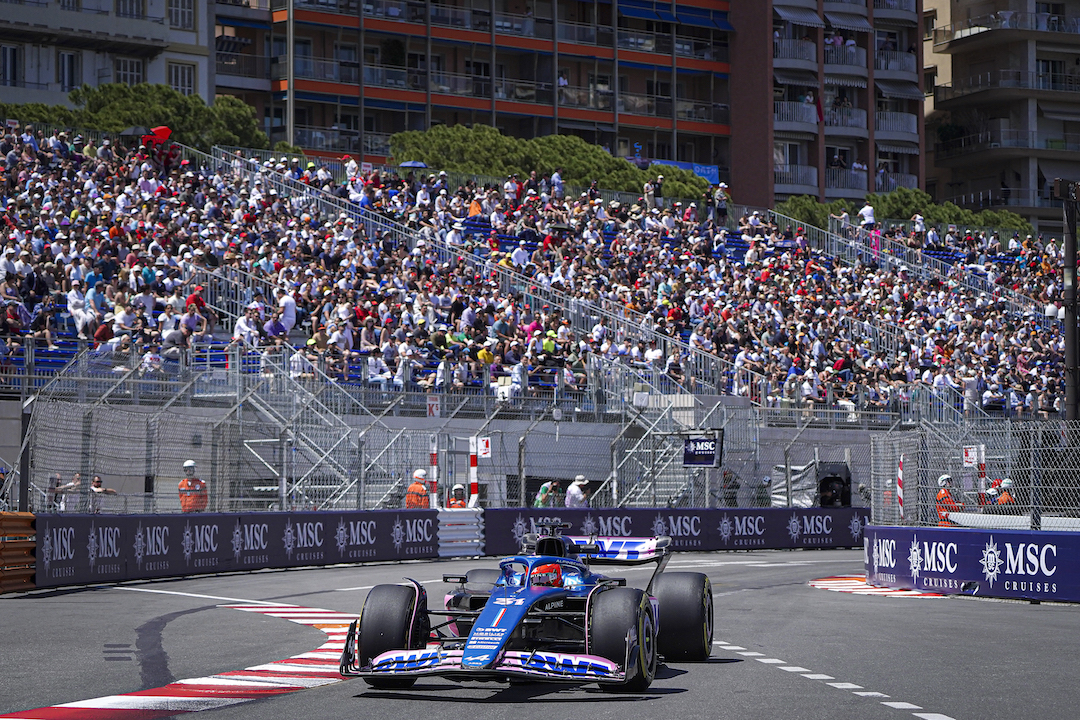 This Monaco Grand Prix, only the 5th in his F1 career, enabled Ocon to produce a perfect copy from start to finish: 8th, then 10th and 9th in Free Practice, he then put in a tremendous qualifying lap to take provisional pole at the end of Q3, and then the 3rd place on the grid thanks to Charles Leclerc's penalty. And he didn't let up in the race, behind the two untouchables, Max Verstappen and Fernando Alonso, two double World Champions, now also tied as double winners in the Principality.
"My qualifying lap was 90% of the job, and today in the race it was a bit tougher. The rear of my car was damaged when Carlos crashed into me at the harbour chicane, then the rain shuffled everything and, in the end, I was under pressure from Lewis (Hamilton), as is often the case in these conditions. He was quicker than me on the wet section, from Turn 5 to Turn 8, and I was quicker on the dry section", added the man from Normandy, author of a top-of-the-range performance in ultra-tough conditions, at the wheel of a highly efficient Alpine.
The first podium of many?
"It's a huge reward, and a change from my previous weekends in Monaco. I'm very surprised, but I have to keep my feet on the ground. I want to thank the Alpine teams at Viry and Enstone. I don't know if this is a turning point in our season, but I hope it's the first podium of many. We'll know more about our car's potential next week in Barcelona, on a slightly more traditional circuit. We keep on pushing. And respect for Aston Martin, because they're showing us that it's possible to go from mid-table team to top team…".
As with Ferrari, one of the two Alpine drivers was the victim of a failed strategy, stopping too early to change tires, and having to stop just afterwards to take the intermediate tires, because of the rain shower. It was Pierre Gasly, who ended up 7th when he could have been aiming for 4th or 5th place, behind Ocon. Exactly the same mistake made by Ferrari for Carlos Sainz, who started 4th and finished 8th. A small detail with huge consequences. Fortunately for Ocon, there was no extra stop with a wrong timing, and his memorable performance with a well-deserved podium finish in the princely box. An historic result, for real.