Once again this year, nominations of the highest caliber have been submitted and it has been difficult to choose from such a wide range of personalities, each demonstrating outstanding expertise in their field as well as an immeasurable commitment to motor sport. However, the FIA Volunteer and Officials Commission Awards Committee salutes the efforts of the entire Monaco's Corps of Marshals and is delighted to announce that they have been named FIA Best Team of Officials Team of the Year.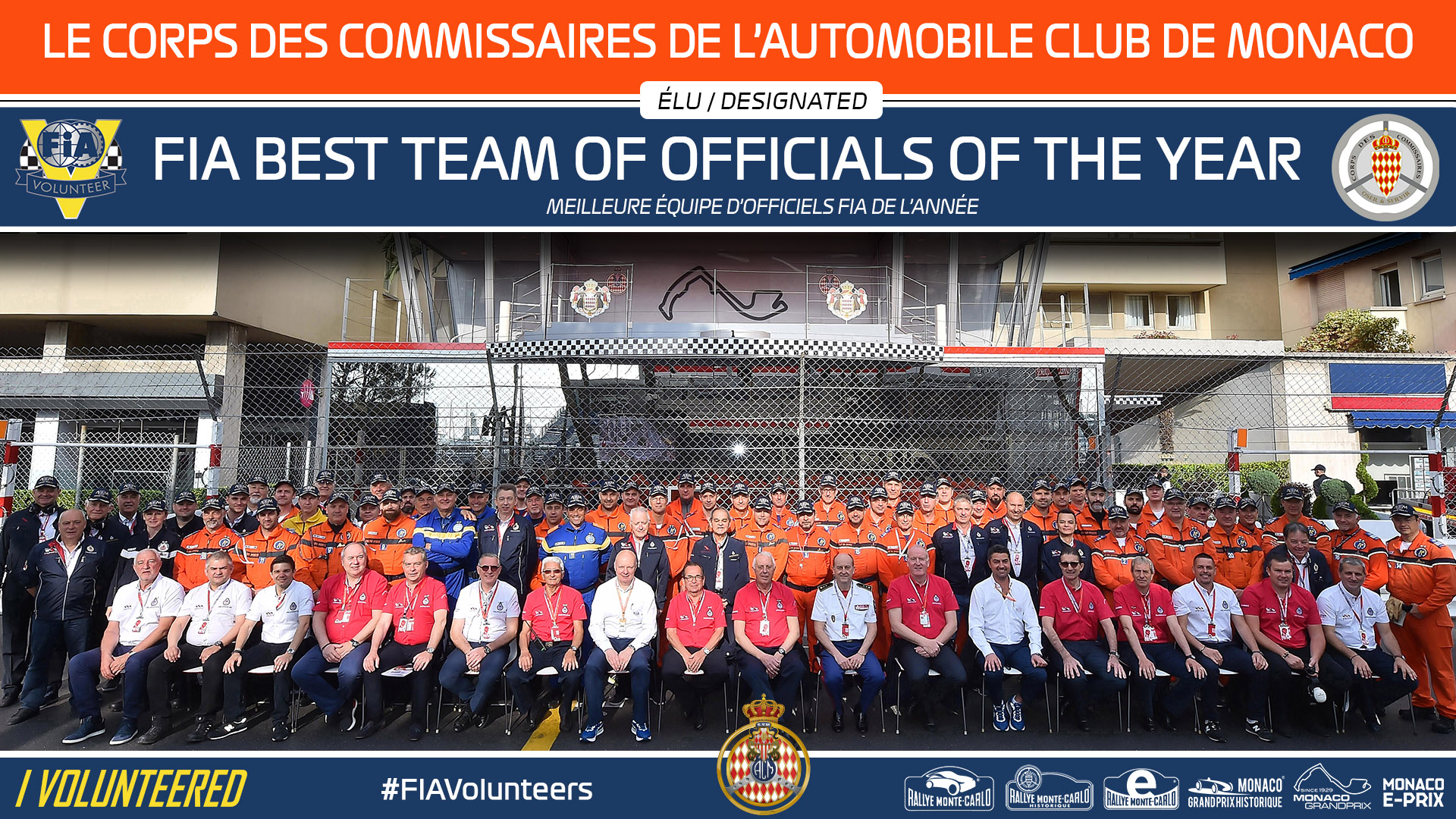 Composed of more than 670 Marshals, the Corps ensure the safety and the smooth running of all the events organized by the ACM, both on circuit and on road. These commissaires are present at the events, with their passion and dedication, always voluntary in their commitment but professional in the execution of their missions, which now require in-depth knowledge of the regulations and perfect mastery of new techniques (computers, GPS, etc.). In this very special year, marked by an unprecedented international crisis, the Corps of Marshals has nevertheless managed to successfully carry out all its missions, thanks to the respect of an extremely strict health protocol, meeting all the recommendations of the FIA and the Monegasque and French health authorities.
Thus, in 2021, the Corps of Marshals has been successfully involved in the 5 events organized by the Automobile Club de Monaco:
– 89th Rallye Automobile Monte-Carlo;
– 4th Monaco E-Prix;
– 12th Monaco Historic Grand Prix;
– 78th Monaco Formula 1 Grand Prix;
– 5th E-Rallye Monte-Carlo.
In addition to this, there were of course the various Circuit and Rally training courses which were essential to maintain and reinforce the skills of the teams. Despite these extremely restrictive conditions, the Corps of Marshals has managed to maintain the "Club" spirit that is its strength, bringing together people from different backgrounds driven by a common passion for motor sport. Through their self-sacrifice and efforts, these volunteers, who do not count their hours and who often work in difficult conditions, are an indispensable cog in the success of the various events organized by the Automobile Club de Monaco. The Corps of Marshals is a large family of passionate volunteers who, through their internationally recognized professionalism and efficiency, have led this institution to become a reference in its field…
2022 CALENDAR OF ACM EVENTS
– 17-23 January: 90th MONTE-CARLO AUTOMOBILE RALLY
– 27 January – 2 February: 24th MONTE-CARLO HISTORICAL RALLY
– 30 April: 5th MONACO E-PRIX
– 13-15 May: 13th MONACO HISTORIC GRAND PRIX
– 26-29 May: 79th MONACO GRAND PRIX
– 19-23 October*: 6th MONTE-CARLO E-RALLY / 22nd MONTE-CARLO ZENN RALLY
* Date to be confirmed