6th E-Rallye Monte-Carlo (26-30 octobre 2022)
22nd Rallye Monte-Carlo ZENN / Zero Emission No Noise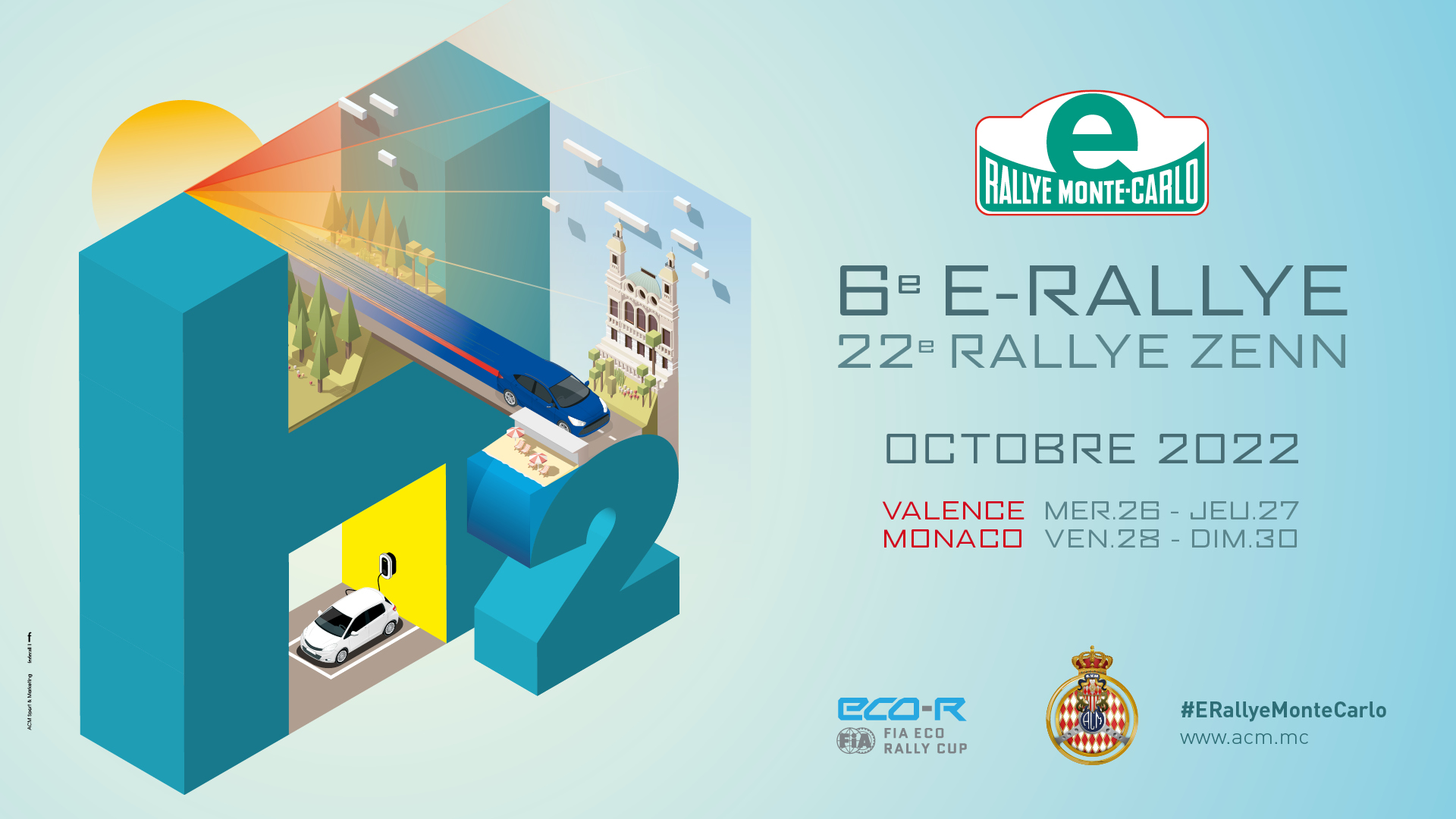 Sold out…
With 24 models entered, representing 14 car manufacturers, this 6th edition of the 100% electric & hydrogen version of Rally Monte-Carlo reaches a level of commitment never seen before and proves once again to be the main event in the FIA eco Rally Cup 2022 !
This widespread enthusiasm for the event is a well-deserved reward for all the efforts of the Organizing Committee at Automobile Club de Monaco (ACM) in the field of electric mobility, ever since the first Rally Monte-Carlo for Electric Vehicles took place. « This is the very first time since 1995 that we need to gather a Selection Committee, this is simply incredible ! We really want to thank all competitors for this great proof of confidence… », says Jacques Rossi, the President of the New and Electric Energies Commission at ACM. Since almost 70 applications had been received on the evening of September 30, the deadline for registration,  this situation, unseen before, made it more complicated than usual for the organizing team. « Until the last minute, we tried to figure out a way to accept more than 55 competitors  – the maximum field mentioned in the Rule Book  – but, taking into account logistical constraints, such as the space available in "parc fermés" and the availability of mobile charging points, we eventually had to give up on that idea and the whole team was very saddened…», adds Eric Barrabino, ACM's Vice-General Commissioner.
The new direction taken this year with the introduction of a completely new philosophy for electricity charging points seems to have paid off! As a reminder and as requested by the Organising Committee, the nightly charging parks are replaced by daily mobile charging points – in partnership with the LS Services company and the ISIOHM brand – in addition to fixed eborn network charging points all along the itinerary and Monaco On in Principality. This is another way to challenge the clearsightedness and wit of the crews, in order to face this brand new challenge. The « Great Start » will be given this year from Valence, the emblematic city in the Drôme department and long-time partner of Automobile Club de Monaco over the past few years. The meeting point is set for Wednesday October 26 at 2 pm on the Champ de Mars Esplanade, where the first crews will be sent off for a first leg with 100% Drôme roads, including three regularity stages (SR) in the Vercors mountains, a real monument to start with!
Destination Ardèche for the 2nd leg and heading for Privas, the prefecture of the department, on Thursday October 27. It will be a day of contrasts, with four regularity stages and a whole lot of new features, as well as a bit of tradition in Antraigues-sur-Volane: a sweet stop in front of the famous Remise, still managed by the Jouanny family who will provide delicious apple tarts to the crews heading back to Valence via Privas.
The next day, Friday October 28, the 3rd leg will be 500-km long heading South to  Monte-Carlo and will probably be a memorable one with four regularity stages on the menu, over three departments (Drôme, Vaucluse and Var), including Mont-Ventoux, the mythical giant of Provence.
The 4th and last leg, on Saturday October 29, will have a definite WRC tone, with a series of former traditional stages of Rally Monte-Carlo, in the departments of Alpes-de-Haute-Provence and Alpes-Maritimes, including famous passes such as Col de Bleine as a conclusion…
ITINERARY 2022
Leg 1 : Valence / Valence – Wednesday October 26, 2022 – 180km
Start VALENCE, 2 pm  – Esplanade du Champ de Mars
SR1 – Barbières / Bouvante – 36.03km / 3 pm – via Cols de Tourniol (1145m) and de la Bataille (1313m)
SR2 – Sainte-Croix / Beaufort-sur-Gervanne – 21.64km / 5 pm – via Col de la Croix (745m)
SR 3 – Gigors-et-Lozeron / Combovin – 16.78km / 5:40 pm – via Col Jérôme Cavalli (842m)
Arrival VALENCE, 8:10 pm – Esplanade du Champ de Mars
Leg 2 : Valence / Valence – Thursday October 27, 2022 – 300km
Start VALENCE, 7 am – Esplanade du Champ de Mars
Check Point PRIVAS, 8 am – Parc Centre Aquatique Cap'Azur (Ardèche)
SR4 – Saint-Priest / Mirabel – 21.52km / 8:10 am – via Col du Benas (795m)
SR5 – Seyras (Les Salelles) / Le Grimaldes – 16.57km / 10:30 am – via Col de la Croix Blanche (890m)
SR6 – Sablières / Rocles – 21.90km / 11 am
SR7 – Antraigues-sur-Volane / Saint-Andéol-de-Vals – 18,17 km / 1:20 pm – via Col de Genestelle (648m)
Check Point PRIVAS, 2:40 pm – Parc Centre Aquatique Cap'Azur (Ardèche)
Arrival VALENCE, 8 pm – Esplanade du Champ de Mars
Leg 3 : Valence / Monaco – Friday October 28, 2022 – 490km
Start VALENCE, 6 am – Esplanade du Champ de Mars
SR8 – Chastel-Arnaud / Crupies – 20.13km / 7:30 am – via Col de la Chaudière (1047m)
SR9 – Beaumont-du-Ventoux / Sault – 29.96km / 10 am – via Col des Tempêtes (1830m)
SR10 – Aiguines / Trigance – 29.21km / 2 pm – via Col d'Illoire (967m)
SR11 – Montauroux / Tanneron – 13.46km / 4:30 pm
Arrival MONACO, 10:30 pm – Terrasses du Soleil
Leg 4 : Monaco / Monaco – Saturday October 29, 2022 – 320km
Start MONACO, 7:30 am – Les Terrasses du Soleil
SR12 – Le Fugeret / Thorame-Haute – 17.99km / 10 am – via la Colle-Saint-Michel
SR13 – Lambruisse / Barrême – 23.44km / 11 am – via Col du Défens (1230m)
SR14 – Ubraye / Briançonnet – 20.19km / 1:30 pm – via Cols de Laval (1100m) and du Buis (1196m)
SR15 – Saint-Auban / Andon – 15.03km / 2:30 pm – via Col de Bleine (1439m)
Arrival MONACO, 7:30 pm – Les Terrasses du Soleil (Early check-in authorized)
About Monte-Carlo E-Rally
This authentic road regularity competition, reserved to 100% Electric or Hydrogen propelled vehicles, is now very appreciated by constructors and other major players of the auto industry who wish to demonstrate, in the real world, the innovative and technological potential of their latest products. A new name was adopted in 2016, after Rally Monte-Carlo for Electric Vehicles (1995-1999), followed by Rally Monte-Carlo Fuel Cell & Hybrids (2005-2006), then Rally Monte-Carlo for Alternative Energy Vehicles (2007-2011) and Rally Monte-Carlo for New Energies / Rally Monte-Carlo ZENN (2012-2015). This is the 6th edition of E-Rally Monte-Carlo and it will count for the FIA Eco Rally Cup 2022.