Starting from pole position, Denmark's Frederik Vesti (Prema Racing) led from start to finish on Sunday morning in the Formula 2 Feature Race of the 80th Formula 1 Grand Prix de Monaco, ahead of France's Théo Pourchaire (ART GP), winner of this race in 2021.
Vesti got off to a good start and wasn't troubled by Victor Martins and Théo Pourchaire at the first corner, Sainte-Dévote. He continued to set a very good pace until the first major incident of the race, when Jack Doohan (Invicta Virtuosi), son of the former MotoGP world champion, lost control as he reached the Place du Casino.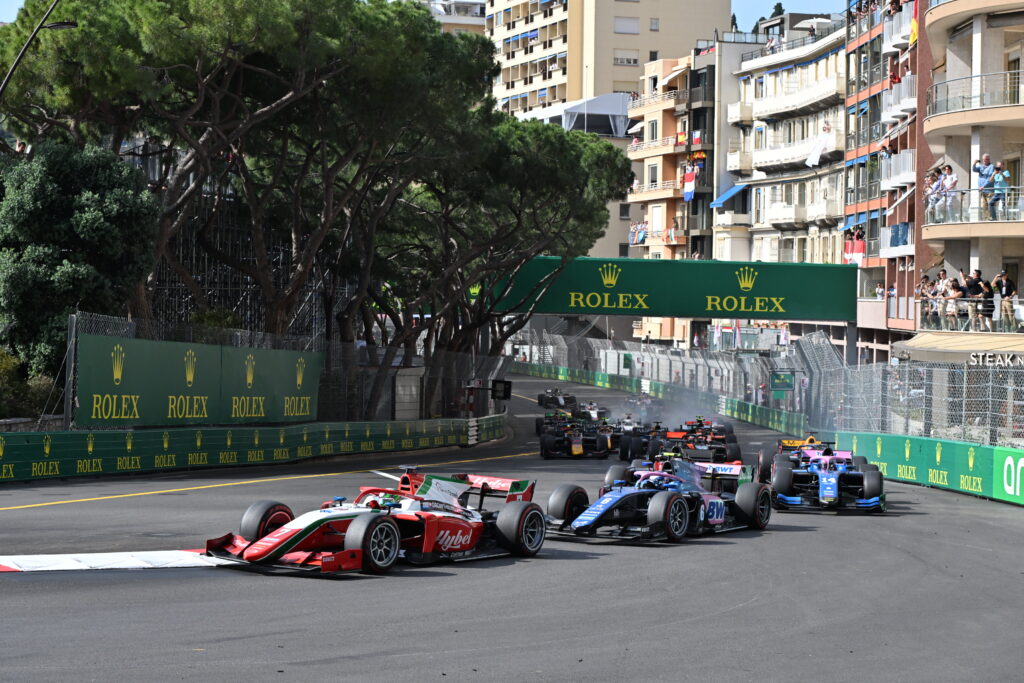 His single-seater, which had already hit the rail at the Bureau de Tabac, went sideways at the top of the Casino climb and came to a halt on the rope, in a very dangerous position. It even started to catch fire, but within seconds marshals were on hand to extinguish the blaze with carbon dioxide foam.
When Martins arrived on the spot a few seconds later, he narrowly avoided the Australian's single-seater. But he didn't slow down enough under the yellow flags and was penalized a little later, dropping from 2nd to 8th place. The red flag was waved and everyone quietly returned to the pits to wait for the track to be cleared.
The race was restarted for a dozen laps, as the 60-minute time limit was about to be reached due to this interruption. In the end, the race lasted only 39 laps instead of 42, and Vesti made no mistakes until the end, to claim his 2nd win this season, after the Feature Race in Jeddah in March, and become the new leader of the championship.
Behind Vesti and Pourchaire, 3rd place on the podium was taken by Zane Maloney (Rodin Carlin), another highly talented 19-year-old from Barbados (British West Indies), ahead of Dutchman Richard Verschoor (Van Amersfoort).
Another Frenchman, Isack Hadjar (HiTech), was forced to retire from the lead on Saturday due to an engine problem. He finished 12th in this main race, well ahead of Clément Novalak (Trident) in 17th place.
Finally, the only Monegasque entered, Arthur Leclerc (DAMS), who started from the back of the grid, was forced to retire a third of the way through the race, when his brakes failed.
In the championship, Pourchaire limited damage and now stands 2nd in the standings, close to new leader Vesti and ahead of Ayumu Iwasa, the winner of Saturday's Sprint Race. Next meeting in Barcelona, next week.