Long before Jacky Ickx became the great motorbike and car champion we all know, his father, Jacques, wrote sports columns for the Belgian daily newspaper "Les Sports" under the title "Tout autour de nous".
His sharp style, his pen dipped in vitriol and even curare earned him the title of journalist-writer in France.
He was also one of the five European automobile journalists of the post-war period.
And he knows motor sport rather well!
The first Belgian Motocross Champion, Jacques Ickx also distinguished himself by winning the toughest car endurance event in 1951: the Liège-Rome-Liège Road Marathon.
"Our father's past as a competitor allowed him to know all the movements of the soul that motivate a sportsman and the emotions that could sweep his heart", remembers Jacky's elder brother Pascal.
These sports chronicles written between 1948 and 1951, full of information but also rich in adventures, exploits, human feelings and unexpected moments, Jacky only discovered them recently: "I was blown away by their actuality, more than 70 years after they were written! And this is not a son admiring his father talking to you, but a reader seduced by a writer.
Compiled in a book entitled "Tout autour de nous, hymne au sport et aux valeurs humaines" (All around us, a hymn to sport and human values), the chronicles of Jacques Ickx are naturally prefaced by his two sons Pascal and Jacky.
In the name of the Father.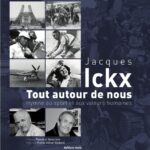 Tout autour de nous, by Jacques Ickx, Éd. MOLS is available in paper version
– 29,90 €, ISBN 978-2-87402-272-2 – and in digital version – 20,99 € – ISBN 978-2-87402-282-1
The royalties will be donated to the SOLIMEDA Foundation for Olympic medallists in financial need.